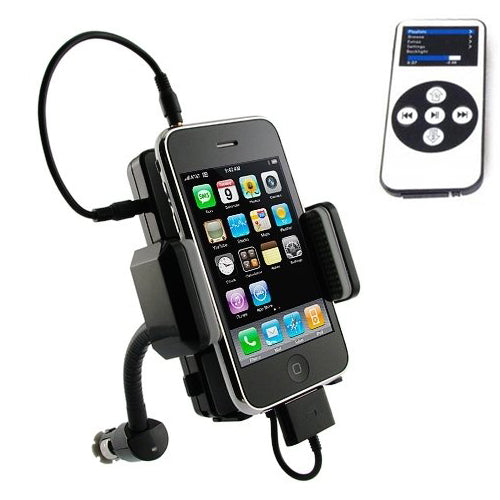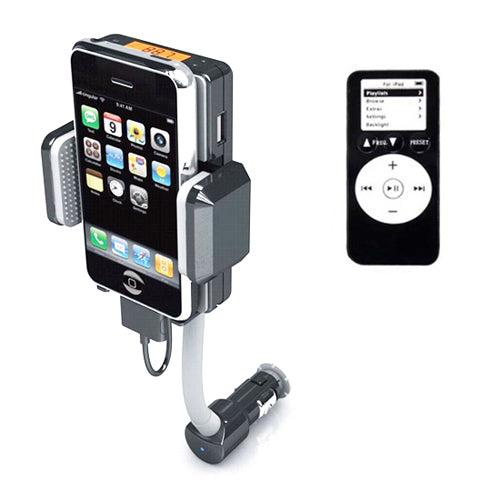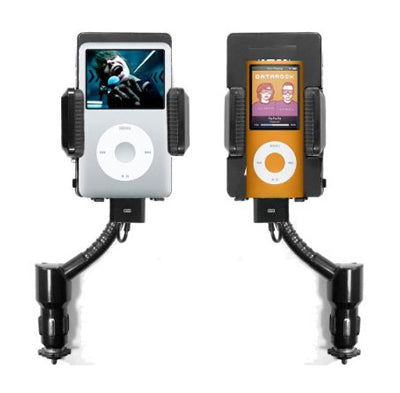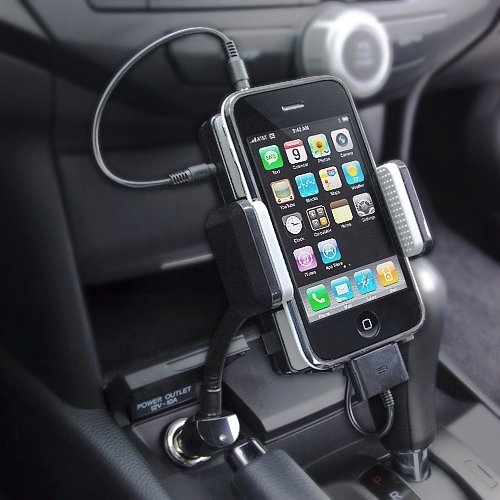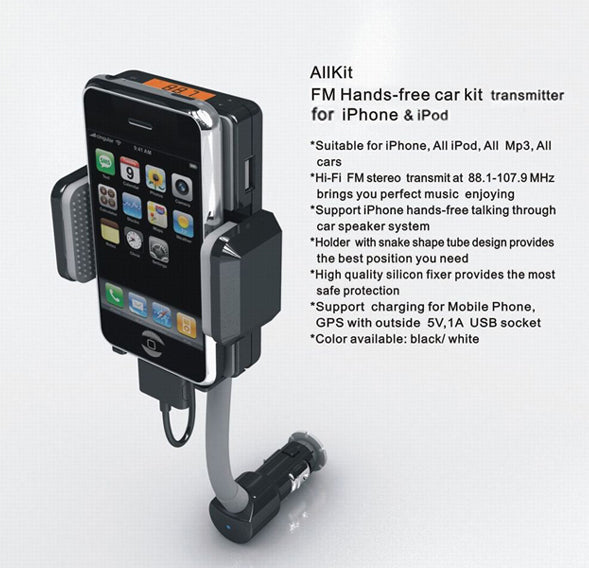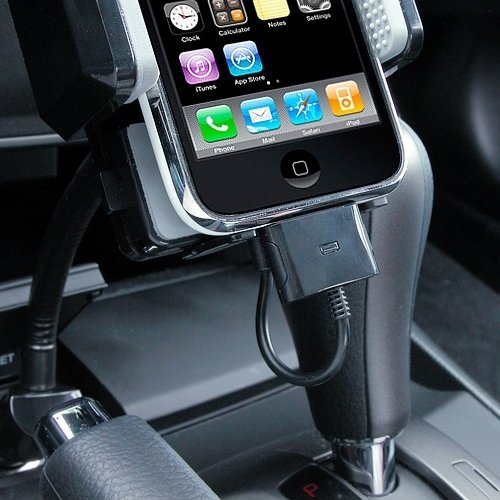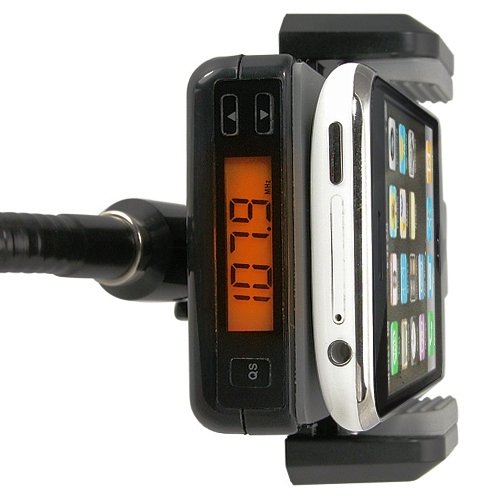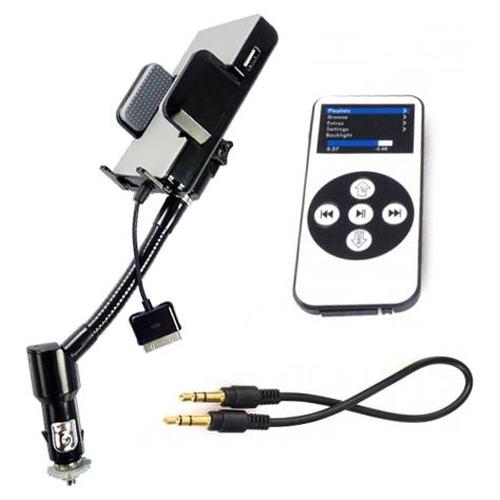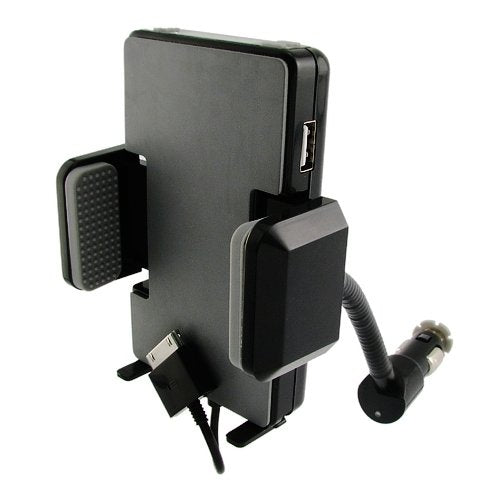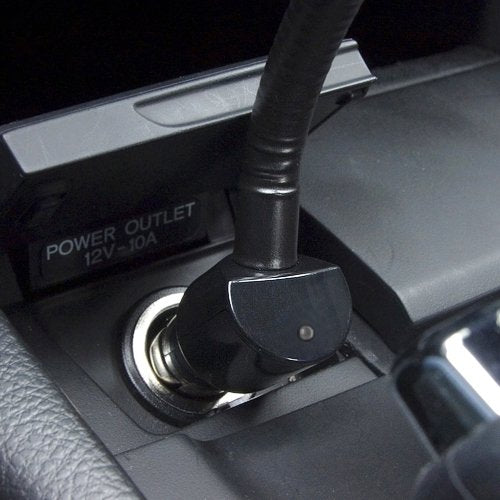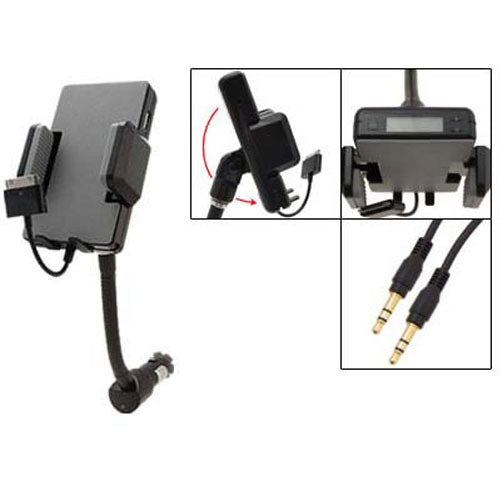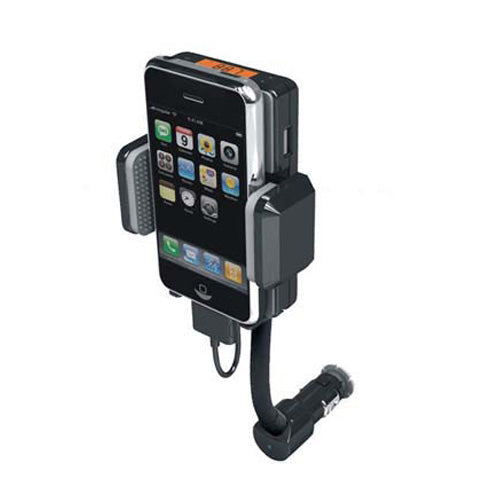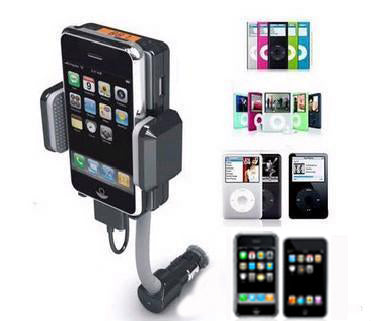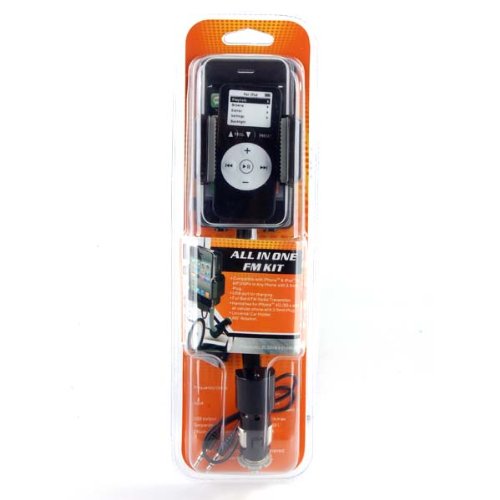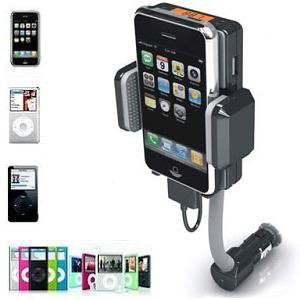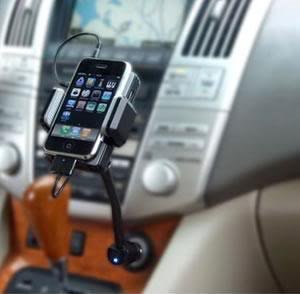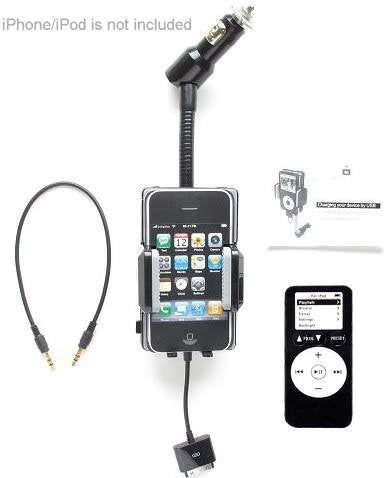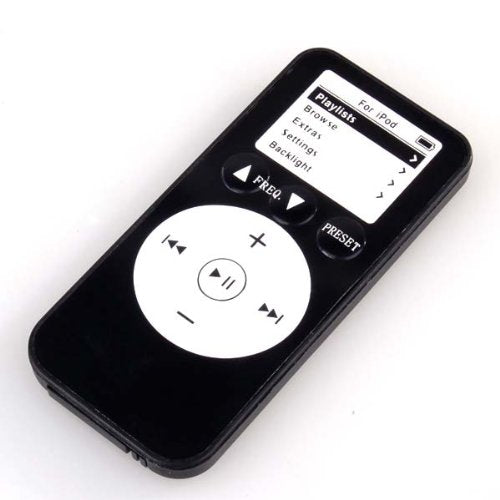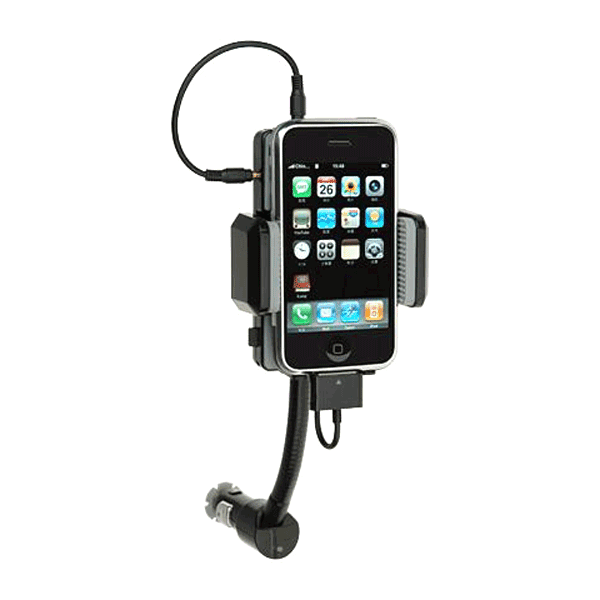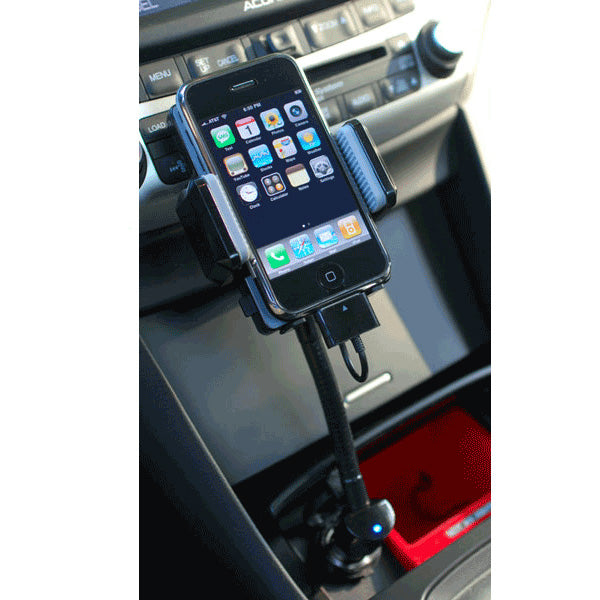 Car Mount, Swivel USB Port Charger Holder FM Transmitter - AWUK3
Out of stock
Many in stock
customers are viewing this product

Fast Shipping From USA

Secure Ordering

30-Day Money-Back Guarantee

100% Satisfaction Guaranteed

Easy Returns
Easy installation simply plug and play! Uses your car's dc lighter to charge up your device.
Hi-Fi Stereo FM Transmitting at 88.1-107.9MHz brings you the perfect music enjoyment. Transmitting Range: 16.5 ft/ 5 M.
iPhone Hands-free supports talking through car speaker system.
Flexible Gooseneck makes it convenient to find the best position for your devices with any car in the world.
Digital FM tuner with LCD display. 3.5 mm audio input for most of the mp3 players / phones with 3.5 mm audio output.
Extra USB port for charging mobile phone, GPS, and other devices. Comes with a Remote Control.
Product Description
Now you can transmit your favorite tune from portable music players to your car or home stereo easily. Just connect this transmitter to your music devices, tune your car stereo or receiver to the clearest FM frequency, enjoy your music with full sound and convenience. Built-in USB interface for charging, don't worry about running out of battery any more, great for travel. Meet all your needs with this All kit FM Transmitter + Car Charger + Car Holder + Remote Control ( works with iPhone/iPod/itouch)! This all kit fulfills the need for all Apple iPods and Apple iPhone users looking for the best and flexible car kit around. With the iPhone you can talk with your car's speaker system, play music, recharge your iPhone or iPod and it even holds on to the iPod/iPhone securely with no kind of wear and tear. 3-in-1 Car Kit - Car FM Transmitter + Car Charger + Car Holder features Supports iPhone hands-free talking through car speaker system Use any FM station from 88.1 - 107.9 MHz to rbgin perfect high quality music from your device Standard USB-A (5V, 1A) output socket provides charging for Mobile phone, GPS and other devices Flexible goose-pipe makes it convenient to position device Compatible with every car in world Goose-pipe rotation prevention design keeps devices stead and firm in its position Flexible clamp keeps device in place. Removable stoopers prevent device from dropping High quality silicone gel on back and sides prevent wear and tear.For best sound performance, please set your MP3 player's volume level to MEDIUM. Then use your car stereo's volume control to adjust the output level. Package includes: Black FM Transmitter / 3.5 mm to 3.5 mm audio cable. All in one kit has included a USB Charging Port, charge your Cell Phone, PDA, MP3 Player, Bluetooth Headset, and many other USB enabled devices! Remote control is convenient for you to play / stops the music, adjust volume, and skip to next / previous songs.It only works with iPhone, iPod, iTouch. Product features: 1. Turn on your car radio and tune to an unused FM station. 2. Place your ipod/iphone/your phone into the dock by pressing the cradle Lock Release button 3. Now secure your ipod/iphone/your phone into place by adjusting the Cradle Wings.Built-in USB interface for charging of iPod, MP3, MP4, Mobile phone if necessary. 4. Connect your ipod/iphone to the Flexpod dock with the supplied ipod connector. Headphone socket: 3.5mm for audio signal input. (Comes with an audio cable with 3.5mm to 3.5mm connector). 5. Plug the Flexpod into car lighter, the LCD display will turn on. Standard USB-A (5V1A) output socket can charge your iPhone, GPS or other devices. 6. Adjust angle of the Flexpod suing knob in back of the dock and and the flexible neck.The flexible clamp holder (30-90mm width) keeps your iPhone or device firmly in place. The removable stoppers prevent the iPhone from being dropped. High quality silicone gel at the sides and back prevent your iPhone or device from being scratched. The soft padding on both arms and back will absorb shakes and protect your devices from scratches. 7. Use the up/down frequency selector, to the right of the LCD screen, on the Flex-pod to match the frequency of the unused FM station on radio that you have chosen. 8. With Remote Control (Functions: part frequency UP/DOWN, part music of ipod crossing-over). 9. You can also use the Quick Scan (QS) button to quickly scan frequencies 10. Please note: use the manual station changer on your radio, not the radio's scan feature. Scanning will bring you to the next broadcast station. You want an unused station. 11. To release your ipod/iphone press the Cradle Lock Release button playing MP3 music stored in your mobile phone through your car/home stereo. The FM transmitter CHARGES your ipod/iphone unit when connected! The unit can also be used for HOLDER function and FM transmitter function for ANY MP3 player or PDA device that uses a standard 3.5" headphone jack. To use the FM transmitter function, just connect your MP3 player or PDA to the unit's headphone jack using the cable provided with the unit!