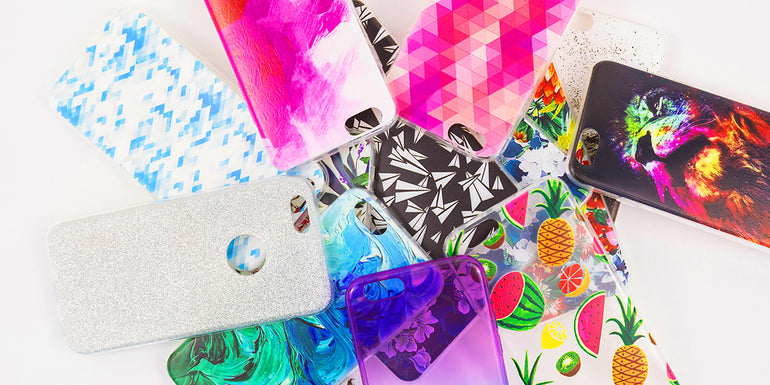 We know that mobile phones are a necessity. Whether it is to chill out with your friends online or for your work, we all require smartphones. Since we use phones regularly, we have to protect them to avoid scratches or damages. 
One of the best ways to do so is with mobile phone cases. As there are countless options available on the Internet, we have brought together different types of phone cases and covers. Through this, you can select one with no hassle. 
So, why not cut the chase and dive right into the matter?
Waterproof phone cases
If you enjoy surfing or skiing, you might want to get one of these waterproof covers. They can protect your smartphone from dirt, water, snow, and dust. These covers can keep your phone active even while you are under the water. It is because they have a thermoplastic polyurethane material.
Waterproof phone covers offer 100% functionality and can help you take crystal clear pictures to savour the moments forever. Besides that, you can also answer calls, send emails and messages from anywhere once you buy these cell phone cases.
Belt clip phone cases and covers
Nobody wants to miss an urgent call. It could be from work or your family members. You can now answer them with no hassle if you have this belt clip phone case. Wondering, how?
You can place your phone close to yourself using the belt clip as it comes with device-friendly magnets. Besides that, these covers can offer scratch protection and have 360-degree rotation. It is best to use them without using another phone base. However, it might fit if you have a thin cover.
These stylish and durable covers can make your life effortless. Others come with finger holes which help in easy removal of the phone when required.
Rugged cases
If you plan to get a cell phone case online, you can always opt for these rugged cases. They are superbly easy to use and, at the same time, have a sleek design. You can use these covers for all the top and device brands with ease.
They are shock absorbent and come with an extra grip that can be beneficial while holding the phone. These phone cases come with a ridged pattern that can accentuate their look. Besides that, they are available in different color varieties. You can carry them around without any difficulties as they are lightweight. 
Kickstand covers
Most people watch movies, videos and play games using their phones. However, it might be challenging to hold them in your hand while having a good time. So, why not gift yourself a kickstand phone cover to make your life easy?
When you purchase kickstand cell phone cases online, you can watch your favourite shows hands-free. It is because they have foldable stands. Apart from that, these covers have an anti-slip feature and come with a rubberized texture. You can even attach these covers to your belt and attend the calls on the go. Their designs are intricate and can protect your phone from any form of damage.
Reinforced bumper covers
These non-slippery phone covers with sleek design and texture can be your phone's best companion. They have anti-scratch properties and come with ultra-slim fitting. Besides that, you can carry your phone anywhere as this cover is lightweight. 
While you buy cell phone covers, you have to ensure that you can use all the functions available on the device. When it comes to reinforced bumper cover, you can use different applications and features of your phone with ease.
They have a non-slippery design and grip too. Through this, you can use the phone without the fear of damaging it. These covers also come with shock protection, which is yet another attraction. 
Silicone mobile phone cases
If you prefer to keep it minimalistic and classy, then a silicone mobile phone case is the perfect choice for you. These covers have a sleek and thin design. At the same time, they are elastic and durable too. They come with a tear-resistant technology, which enhances their life too. 
Besides that, they can offer you scratch prevention and have 360-degree-full protection. Now, you can snap pictures or attend calls in style and comfort. These covers can keep your phone attractive and can go with any outfit of your choice. Along with that, these covers have a comfortable grip and a clear design that adds to their aesthetics.
Pouch covers
Pouch covers can protect your phone from a variety of dangers. You can use these covers with ease as they can prevent dust and dirt from entering your phone. Besides that, they are handy and easy to carry around as well.
These phone cases and covers have the perfect design that can work well with your style. You can carry them around anywhere as they are lightweight and offer scratch protection. 
Drop-proof covers
How many times have you dropped your phone? Sometimes mobile phones could slip out of your hands and fall. Through this, your phone might shatter into pieces or could develop scratches. So, how can you avoid such a condition?
The simple answer to the question is to buy cell phone covers with drop-proof technology. With these back covers, you can safeguard and protect your phone from any form of damage. These covers are also scratch-resistant and employ hybrid technology. Besides that, they are ultra-thin and easy to use as well. These covers are available with a transparent design with a comfortable grip too.
Final Thoughts
Regardless of the brand and model, getting a phone cover is an added protection to your phone. You can buy cell phone cases online seamlessly. Are you wondering where to find the best products?  
Don't worry! Accessory Wiz has got your back. We have curated a selection consisting of a wide range of phone cases and covers. They are durable, stylish, and user-friendly.
Click here
to get gift yourself a phone cover now!