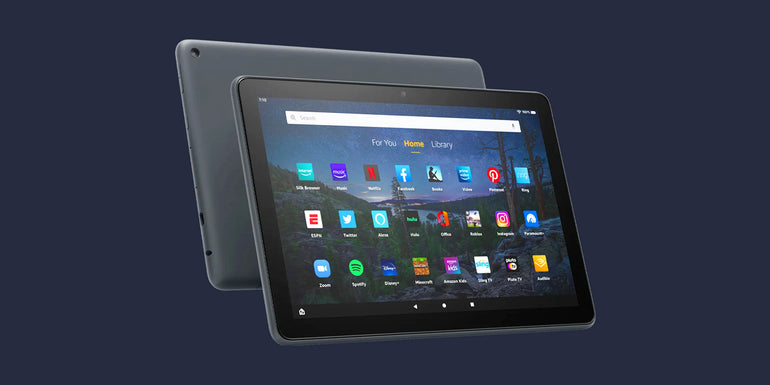 Yes, you heard it right. We are talking about a tablet with amazing features that can not only surprise you but, shock you for positives.
We are talking about Amazon Fire HD 10.1. As the name says it all, it is one of the long-lasting tablets. Before proceeding more about the tablet, don't you want to take a close look at its specs? Let's watch it out.
CPU: 2.0GHz octa-core CPU
RAM: 3GB
Display: 10.1-inch, 1920 x 1200-pixel
Storage: 32GB, 64GB
Ports: 1x USB-C, headphone jack, microSD
Battery life: 13:14 (13:46 with power-saving mode enabled)
Dimensions: 9.7 x 6.5 x 0.4 inches
Weight: 17.8 ounces/1.1 pounds
About Amazon Fire HD 10.1
The Amazon Fire HD 10 (2021) is already a good tablet and it comes with incremental upgrades, such as a slightly brighter screen, 1GB more RAM and a smaller, lighter design.  many. Amazon has proved that its value-driven products are worth buying and it is one of the best tablets you can go for, especially if you are on a budget.

Amazon Fire HD 10 (2021): Price and Availability
They are available in small, medium, and large. This year, the large model, the Fire HD 10, has gotten a refresh, bringing a redesigned body, better performance, and a host of new configurations you can choose from when buying it.
The tablet has a 10.1in LCD touchscreen that is slightly brighter than its predecessor and is designed for movie-watching with its widescreen ratio. The new Fire HD 10 adopts the slimmed-down and rounded aesthetic introduced to the 8in Fire HD 8 last year, which makes it look significantly more modern, and is 36g lighter than the model it replaces.

Why should you buy it?
REASONS TO BUY
Intuitive, simple OS
Hands-free Alexa built-in
Decent battery life.
Amazon is becoming well-known for the quality of its affordable tablets, they're reliable, simple and can be used by the whole family. The Amazon Fire HD 10 (2021) is no different. The best part? You can use it hands-free with the Alexa voice assistant. Isn't that amazing.??
You can pick up the Amazon Fire HD 10 (2021) now directly from Amazon, with either 32GB of storage or 64GB, and either with the sponsored ads screen saver or without.
In the US, without ads, it's either $150 (32GB) or $205 (64GB). With ads, it's $165 (32GB) or $190 (64GB).
The Amazon Fire HD 10 tablet (2021) builds on the 2019 version with a lighter build (now 465g as opposed to 504g), more RAM (it was 2GB and is now 3GB) and the newer version of Bluetooth for more reliable connectivity. The main camera system has been bumped up from 2MP to 5MP as well.
Other than that, the 2021 tablet features the same 10.1inch LCD, Android 9 Pie and the Mediatek MT8183 Helio P60T chipset. You get all the same features with Alexa built-in, giving you hands-free voice control, Alexa Skills, video calls to other Alexa devices and Alexa Show Mode.
Design and Display:-
Simple in design, the Amazon Fire HD 10 (2021) comes in a Denim blue, Lavender purple or Olive green, and I tested out the black version. Measuring 247 x 166 x 9.2 mm and weighing 465g, you'll definitely need two hands to hold it comfortably.
The Full HD screen has a resolution of 1920 x 1200p - it's noticeably less sharp and slightly dull. Most people will use the tablet to stream shows from Amazon Prime or Netflix, and for that purpose, the display is definitely clear and bright enough. It's overall a nice experience to use the screen, it reliably responded to every tap and swipe.
To unlock the display, you'll need to type in your pin or password every time, You don't get the luxury of a fingerprint sensor or facial recognition here.
PERFORMANCE AND BATTERY LIFE
The Amazon Fire HD 10 (2021) has a MediaTek MT8183 Helio P60T chipset and 3GB RAM. It felt speedy enough to use and coped well with games like Angry Birds and Sonic Forces however this won't be a tablet for serious mobile gaming by any means.
Despite running on Android 9, you have to download apps from the Amazon Appstore because it uses the Fire OS skin. There's still no access to the Google Play Store which means you are limited by the number of apps you can download. For instance, you can't download Fortnite or even the Chrome browser. Other than that, the operating system feels intuitive and fine to use.
Amazon claims the battery will last up to 12 hours of reading, browsing the web, watching videos and listening to music.
SMART FEATURES, AUDIO AND CAMERAS
Being an Amazon tablet, you get all of the benefits of their voice assistant, and you can activate it hands-free using the wake word 'Alexa'. That means that you can ask all of your burning questions, set timers and alarms and make video calls to other Alexa devices. You can also enable Show Mode by swiping down from the top of the screen and pressing the toggle at the top. It turns the tablet into a smart display, so Alexa will not only respond by voice but will serve up extra information too, like digestible graphics when you ask for the weather forecast.
If you plan to share the tablet with the whole family, you can create a Child Profile that lets you block in-app purchases and ads, set educational goals and choose time limits. You'll also have access to the Parent Dashboard which gives you weekly and three-monthly reports to show you what content your child has been looking at in Fire for Kids.
The dual stereo Dolby Atmos speakers are loud and clear, it's a little tinny to play music at the highest volumes, but it'll be good enough for watching TV shows and movies. You can't expect too much from the cameras, they're good enough for video calls but not so much for taking photos, despite being an improvement on the previous generation.
What more a tablet can offer you? Affordable and versatile, the Amazon Fire HD 10 (2021) is a great choice for a family tablet and you too. 
It'll be best suited to those with Prime membership who want a simple tablet for streaming TV, casual web browsing, light gaming and reading books. Having Alexa built-in is really handy, especially in Show Mode and the decent battery life is something worth knowing about too.
Although it may not look or feel as sleek as more premium tablets, when it comes to value for money, it doesn't get much better than the Amazon Fire HD 10 (2021).
The tablet is fully built with keeping almost every one of its users in their minds and needs. What more do you want! Grab the offer now!