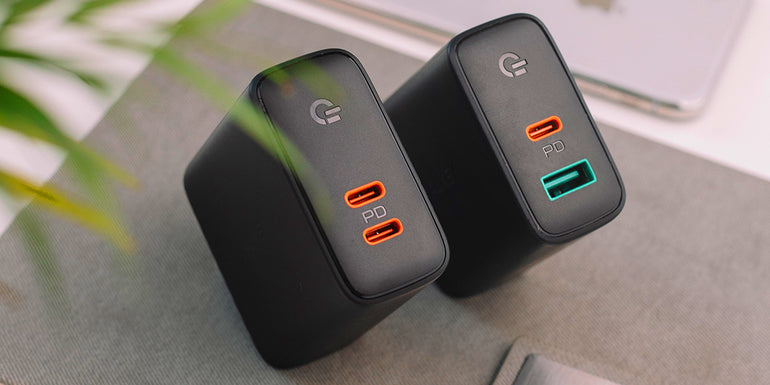 Imagine spending a day without your smartphone or any gadgets with you.
How do you think you can get around with your day? 
From booking cabs to scheduling a simple meeting, we are highly dependent on the smart devices around us. If we have to keep our phones, tablets, and laptops functioning smoothly, we have to keep them charged. Sometimes you might want to charge your device on the go. So, how can you do it?
A regular charger might serve your purpose for the time being. But, purchasing a combo charger online can be a savior. In these charging kits, you can obtain a USB home charger, a USB car charger, and a USB cable. You can also gain a travel charger, which makes charging hassle-free.
Now, let us have a look at the benefits associated with buying a USB combo charger for your smartphone.
Compact and easy to store
These chargers are retractable and easy to store. Besides that, they don't cause any form of clutter. You can separate these chargers and their wires as well. Through this, storage will not exist as a problem. 
You can keep the USB car charger of your cell phone combo charger in your vehicle. By doing so, you can have access to them when you are on the go. 
Similarly, you can place the other portions of your charger in the required locations. Allocating space for storage will also be beneficial for you. 
When you buy USB combo chargers, you can reduce the mess caused by tangled wires. Along with that, you can organize your cables and adapters with ease when you opt for these products.
You can now travel light when you pack your combo chargers with you for your trips. Here, you can obtain the same functions without carrying around a heavy adapter and cable.
Convenient to use
These combo chargers are innovative products that can make your days easier. You can now go around your day without worrying about having a phone with a dead battery. 
With these chargers, you can charge your phone from your home, office, or while you are traveling. This is an excellent feature of these chargers that attracts buyers. 
Besides that, you can plug in your phone to the charger and not worry about turning off the switch. These chargers employ innovative technologies that can shift your phone to saver mode once your phone's battery is full.
 Apart from that, these products are lightweight and easy to carry around. Another noticeable feature that adds to the convenience of usage is that they can prevent your phone from issues like short circuits. 
Sleek and stylish design
When we look into their design, they have a stylish look that can complement your phone and home decor. They can blend in with your vehicle as well. Another factor to note is that these chargers are non-OEM products as well.
Besides that, these chargers are available in different colors. They have a compact design as well that can cater to your requirements with ease.
They have a sleek outlook that can work well with your mobile phone. You can even purchase products with diverse structures and shapes.
High-quality cell phone combo chargers
These combo chargers are high-quality products that can last for years. Manufactured using premium quality materials, they are durable, and you can use them without any fear. 
Unlike the other chargers that you can purchase online, these unique chargers have intelligent IC chips. With the help of these IC chips, your charger can identify when the battery is full. 
Through this, you can overcome the problem of overcharging, which can adversely impact your phone. With such a charger, your phone will switch to saver mode, which is beneficial in preventing all the chances of short circuits.
Apart from the charger, we have to consider the quality of the USB cables. They have a dual purpose as you can use them for charging and hot synching. With hot synching, you can connect your mobile with your laptop or tablet and use it for sharing files and other purposes. 
Since we are looking into the quality of these combo chargers available online, we have to consider their adapters. Adapters come with internal circuits. They are also highly beneficial in managing any form of short circuits or overheating. These are some essential factors from which we can understand that a combo charger offers high-quality support and features.
Available for different products
You can shop for a combo charger online and select one that suits your requirement. You can choose your mobile's brand their model before placing your order. It is yet another factor that makes these chargers attractive. 
When you shop for chargers, adapters, and cables separately, it could be tedious. Sometimes you might be able to find one of them, and some other times you may get none of them. But, with these combo charger kits, you can select an entire range of products required for taking care of your smartphone. 
If you are searching for combo chargers for your phone, do visit Accessory Wiz. Here, you can find chargers suitable for your brand and model. 
Final thoughts
Apart from these benefits that we have looked into, there can be countless other advantages of using cell phone combo chargers. From the convenience of use to numerous features, these chargers can be the best companions for your smartphones. 
When we look at the features of these combo chargers available online, they offer short circuit protection, prevents overheating, etc. These chargers are highly practical products for which you can invest without any hesitations. 
Now, you can buy the latest combo chargers from Accessory Wiz. You are just a
click
away from finding different varieties of chargers curated for your mobile phone requirements.