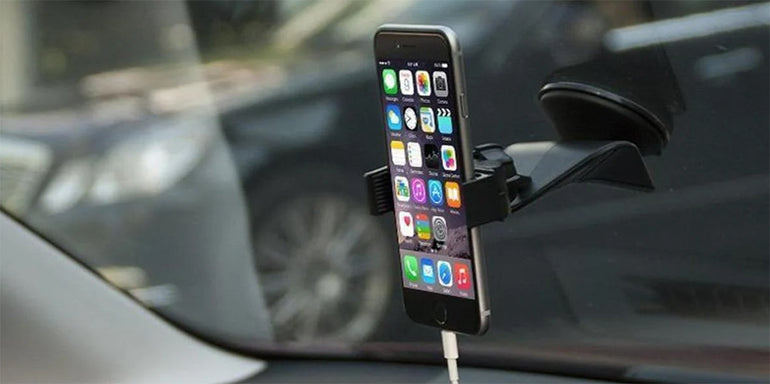 Using mobile phones or any smart gadgets while you are driving could be dangerous. So, how can you overcome such an issue? The best way to do so is with cell phone holders for cars. Through this, you can use your phones safely while you are on the road. 
So, let us find different cell phone holders suited for your car.
Air Vent Holder
Air Vent holder is a unique design you can consider while you buy a car phone holder. It comes with a gravity auto-lock mechanism. Through this feature, it becomes easier for you to put your phone in and out with ease. 
When you buy this cell phone holder, you don't have to worry if it will fit your phone or not. You can also use this holder when your phone has a slim cover. The case has to be between 4.5 inches and 6.5 inches. These holders can stay fit so the air vent perfectly well.
Besides that, it is a totally hands-free product. You don't have to touch your phone holder while you are driving or using your phone. Through this, you can use your smart gadget for making calls or checking the location.
Apart from these factors, an air vent holder comes with a clamp. You can use it to adjust your phone with ease. Besides that, while you are purchasing a holder, you can select one based on the brand and model of your phone. By doing so, you can ensure that you are getting a product that fits your device. It also comes with a strong grip and has a vent clip.
Cradle Glass Cell Phone Holder for Cars
You can purchase a holder based on your requirement and your car's model. A cradle glass cell phone holder works well with most vehicles, and you can get this phone holder online here. Manufactured from high-quality plastic material, this cell phone holder is a product that you have to buy. With this holder, you can use your phone while you are driving your vehicle. It will help you to stay connected with your loved ones and assist you in finding relevant information on the go.
When it comes to the installation of the holder, it is pretty easy. You can find the details of doing so from the manual you would receive with the product. Besides that, you don't have to worry about the cradle glass holder leaving a mark on the windshield. You can also place this holder on the dashboard if it is something that works for you. 
It is a product that you can use with ease. It is because the device is compact. When you are thinking about storing the cradle glass holder, you can do so by folding it. You can also use the clipper grip that is available with the holder. With this, you can have access to your phone while you are on the go. Through this, you can use the different features that are available on this cell phone holder for a car.
Telescopic Holder
Telescopic holders have a sleek design and have a suction cup that makes them a suitable product for use. You can use this device to place your smartphone in the windshield or dashboard. You have different options in front of you when it comes to where you are planning to keep your phone. Through this, you can access your smart device when you are driving. You won't have to miss any important calls or so after you buy a phone holder online.
When you look into the installation of a telescopic holder, you can do it with the support of the manual. Removing the product from the windshield or dashboard won't be a trouble as well. When you do so, the holder won't leave any mark, which means that you can use it without any fear. 
Another excellent feature of this product is that it comes with a washable suction. So, you don't have to worry about the suction getting time with usage. Besides that, when you buy a car phone holder which is telescopic, you can release it by using a single button. Apart from that, these telescopic holders come with multi-angle rotation, which enhances their usability. 
When you consider the design of the product, it is universal and sleek. You can use this car phone holder based on the device you own. You can also make your purchase based on your phone and its model.
Cradle Holder
We have discussed a type of cradle holder, which comes with a glass holder. But, this holder has a unique design and comes with features that can make your life easier. You can use this type of phone holder for the windshield or the dashboard of your car. 
With this holder, there are other features as well that make it an attraction for gadget enthusiasts. It is also convenient to use and comes with adjustable height. Through this, the placement of your phone and its positioning becomes an easy task. Another feature to look into is the easy one-button release available on the cradle holder. 
Swivel Holder
It is yet another classy and sleek cell phone holder for your car that you can add to your wishlist. It comes with a design that is compact and stylish at the same time. 
When you are installing the product, it doesn't take up a lot of time. Apart from that, a swivel holder comes with an angle rotation feature. It also has a 360-degree rotatable holder, which makes it way easier for you to use the product. Another feature that is worth considering is that this holder comes with suction, which is washable.
Final Thoughts
These are some of the best cell phone holders for cars that you can consider buying. By purchasing a durable holder with different features, you are making a worthwhile investment. So, why not head on to
Accessory Wiz
to explore various designs and models of phone holders.