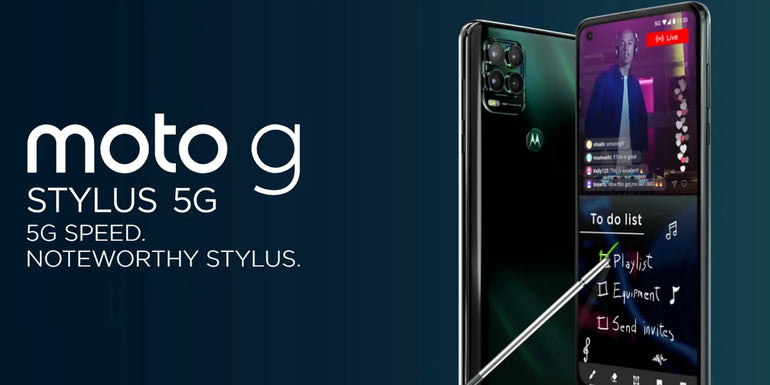 If you are looking for a combination of the best and affordable 5G phone here, then choosing Motorola will be your best decision ever.
Motorola has a history of releasing excellent budget phones, like the Moto G Stylus 5G. The company launched this phone especially for those who are completely Stylus lovers.
With the launch of its phone Moto G Stylus 5G, Motorola did something a little weird to its phones. It removed all the numbers from the phone's names. This is all about numbers and now, Motorola has brought a different naming scheme. For example:- Put the phone's main feature into the name. For example, the Moto G Power has a gigantic battery, hence the word power. And the Moto G Stylus, as you probably figured out, has a stylus.
If we say, at the core the Moto G Stylus and Moto G Power are the same phone. They have the same processor, RAM, screen, fingerprint reader and selfie camera. But things get interesting when you compare the differences between the two budget phones.
Moto G Stylus 5G, is available at $300 and its Mystic Indigo colour gives off a flashy vibe.
The key features of this phone are appreciable.
The stylus adds a level of precision that makes navigating the phone more efficient. Moto G Stylus is a solid featured budget phone for every stylus lover.
Both Moto G Stylus and Moto G Power were released by Motorola Mobility at the same time. If you need a phone with outstanding battery life, get the Moto G Power. And if you love the precision of a stylus or enjoy sketching, the Moto G Stylus is waiting for you. But the stylus seems to be lacking software features that could make it more useful. I wish more apps took advantage of the stylus at a software level.
The key features of Moto G Stylus 5G:-
Moto G Stylus costs $300.
Moto G Stylus has a 4,000-mAh battery.
Moto G Stylus has 128GB of storage.
Aside for
Moto G Stylus have a different rear camera.
Moto G Stylus has a built-in stylus.
Moto G Stylus is Mystic Indigo.
Moto G Stylus is a sleek note-taking machine.
The Moto G Stylus has a 6.4-inch full HD display with a hole-punch that houses the selfie camera. The design gives the phone a modern and premium look. It has a USB-C port for charging, a headphone jack and on the back is a fingerprint reader disguised as the Motorola logo. It doesn't have wireless charging, NFC or an IP rating for dust or water resistance. But, yes it does have a "splash-proof" coating.
The Moto G Stylus has a 48-megapixel main wide-angle camera that uses a technique called pixel binning to combine the light information from four pixels into one. The advantage is that the phone can take photos with less noise in medium-to-low-light situations. The phone also has a macro camera and an ultrawide-angle camera called Action Cam for capturing video (think Go Pro). What's neat is that you don't need to hold your phone in a landscape position when you film. No matter what orientation you have on your phone, the camera rotates the video accordingly.
On paper, the main camera on the Moto G Stylus is more versatile. The Moto G Stylus renders photos with a pinch more contrast and pop. The phone also has a night mode called Night Vision. It can help in low-light situations to capture extra detail, sharpness and brightness. The camera system on the Moto G Stylus is decent for the price and it's better.
Moto G Stylus performance and battery
Power-wise Moto G Stylus 5G has a Snapdragon 665 processor, 4GB of RAM and runs Android 10 with a handful of mostly helpful touches by Motorola like the Moto Gametime feature that helps reduce distractions while you're playing a game.
Moto G Stylus 5G comes with 128GB of storage and supports expandable storage up to 512GB. The Moto G Stylus comes in Mystic Indigo, which looks gorgeous. This is the best looking Moto G budget phone ever.
The screen is surrounded by thick bezels that are actually thinner. The forehead and chin are a bit but at least Motorola did away with having its name on the bottom of the phone like last year's Moto G7.
The phone is designed in such a way that the first look of the phone will clearly win your heart and Motorola knows how to take it away.!!